Fall/Winter Choosing Health! Rally 2012
October 21, 2012
2:00 - 4:30 p.m.
Pattengill Middle School
626 Marshall Street
Lansing, MI 48912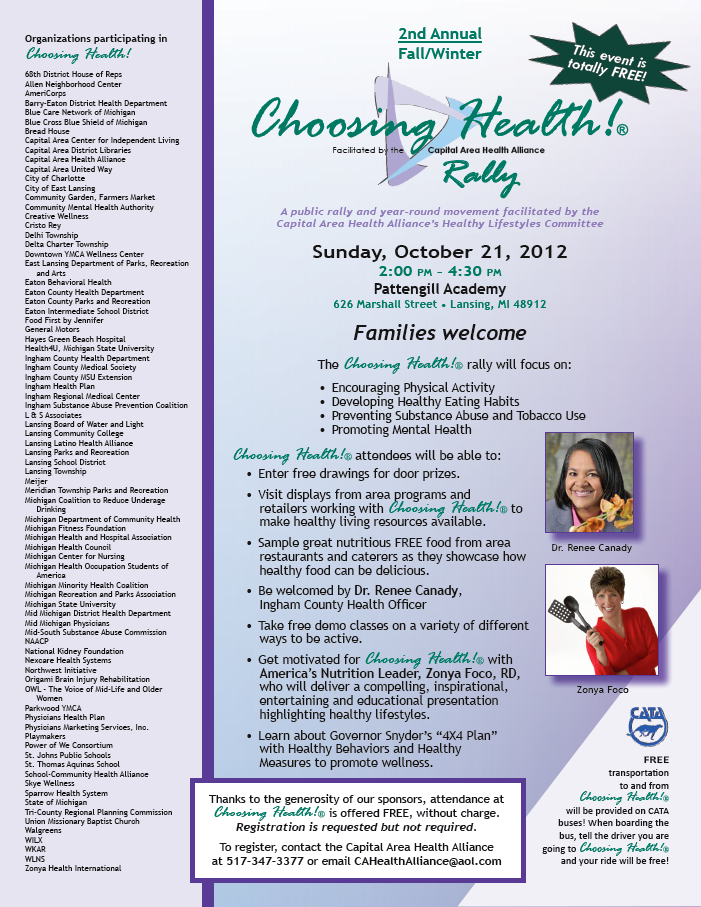 Choosing Health!® Rally News Coverage
Fox 47 News, October 21, 2012

Choosing Health! Rally Press Release
October 21, 2012
---
The Choosing Health!® Rally brought together hundreds of health care professionals and community members to learn about healthy living and resources available throughout the tri-county area. This rally included:
Dr. Renee Canady, Ingham County Health Officer, to kick off the event and encourage participants to Choose Health!

Zonya Foco, RD, known from PBS as the nation's Nutrition Leader, giving an inspirational keynote address about Healthy Living.

A Taste of Health, which offered tasty, nutritional food samples from seven area restaurants and caterers.

A Door Prize Drawing with 19 prizes for attendees donated by area restaurants and merchants.

Healthy Living Display Booths from over 30 community organizations and agencies to distribute their literature, engage community members, and sign up potential participants in area programs.

Seven Free Demo Classes that presented fun, easy ways to stay healthy, including Zumba, Jumping Rope, Yoga, Nutrition, Cooking Healthy and Stress Reduction.

A Choosing Health!® display table that gave attendees fliers explaining MDCH's 4 X 4 Tool.

Free transportation provided by CATA.
Overall, the event was a great success, featuring stimulating activities, excellent display tables with a significant range of information and resource descriptions, and a substantial mix of participants in terms of race/ethnicity, age, gender and regional origin. As they were leaving, participants said they were glad they had come and that they were looking forward to the next Choosing Health!® Spring/Summer Rally.
Contact the Capital Area Health Alliance for more details.